JetJ couronne et de la crete robe (gobelin)
Great condition! Worn a few times. 550 SGD (443 USD, 334 EUR).
Rare -- sold out within 10 minutes on the webpage, no re-releases were made.
(I'm wearing the dress in the proof pictures.
size 1
official measurements:
bust 88cm,
waist 68cm,
length 102cm,
skirt length 63cm


tightening ribbons (front corset panel) -- can go smaller but not larger


invisible zipper (back)


gobelin fabric, fully lined




AP Little Birds Symphony skirt in pink
BNWT -- impulse buy during the sale :/ Caved and bought as it was really cute even though it's not my usual style. Asking 190 SGD (153 USD/115 EUR) *including shipping anywhere*. Tag states full price.

official measurements (via AP):
length: appox. 64cm (67 cm including lace), waist: approx 64~73cm



waist ties are detachable




waistband is partially

shirred




includes fluffy inner petticoat




the lace is white and has a little bird and leaf motif





MM Adrienne OP in milky mint
(kinda like a seafoam green, but still somewhat mint? stock photo is very blue dah ba dee)
Good condition -- no stains/flaws but has a 'feeling of wear'.
340 SGD (274 USD/206 EUR).

measurements as per hello lace
97cm length, 89cm bust, 70cm waist


waist ribbon is detachable


tightening ribbons at back (refer to stock photo in black)




IW Snow White OP
Good condition -- no stains but has a feeling of age/wear since this is an old print.
275 SGD (221 USD/167 EUR)

Alt proof photo: http://www.flickr.com/photos/pwnpwn/8496966417/in/set-72157625106964235/

JM Sleeping Beauty JSK in mustard, BNWT
Feeler item really. Impulse buy and have no idea what price to ask.
Let me know if you have an offer. Tag reads 36,540 yen.


Proof photo: http://www.flickr.com/photos/pwnpwn/8498057212/in/set-72157625106964235/

AatP Rose Jail SK in brown
Great condition -- no stains or flaws.
200 SGD (160 USD/121 EUR).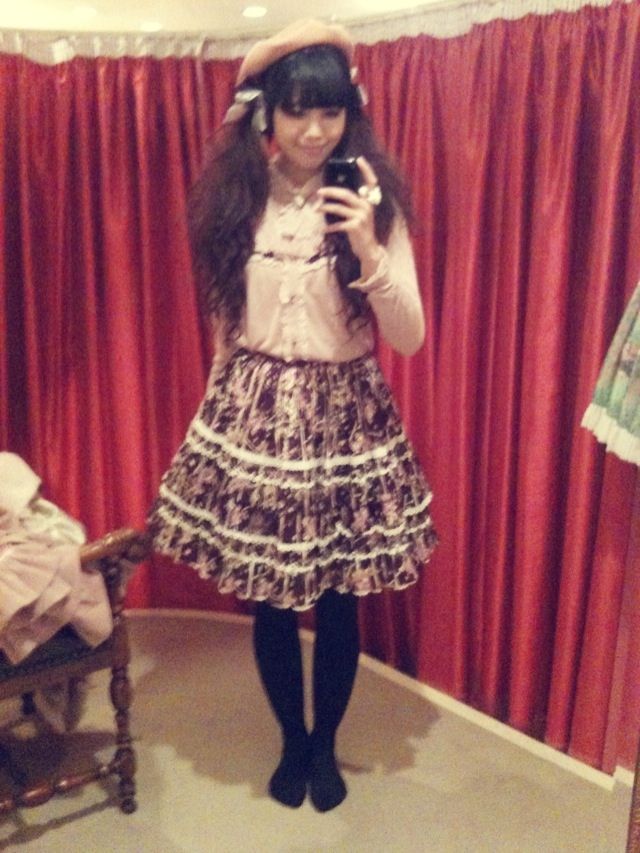 Alt proof photo: http://www.flickr.com/photos/pwnpwn/8496969461/in/set-72157625106964235

BTSSB Paris Windows SK in pink
So old school XD Decided to give it a shot but I think it really doesn't suit me after all. My first ever dream print... but it just feels weird on me now.
180 SGD (145 USD/ 109 EUR)




Measurements as per hello lace
59cm length, 64cm waist
AP three-piece set in sax
There are stains under one ribbon (not visible until you look under it) and at least one
stain
on the front of the skirt, on top of the lace. Price reflects condition (please check all photos of this dress carefully before committing to purchase).
100 SGD (80 USD, 61 EUR)


Includes JSK, choker and headdress


Front bows are not detachable


Has back shirring


Has detachable waist ties


AP bunny bracelet
sold, thank you!
BTSSB usakumya wristband
sold, thank you!
SWIMMER cat skirt
65 SGD (52 USD, 39 EUR)


Waistband is fully shirred


SWIMMER ribbon earrings
15 SGD (~12 USD, 9 EUR)
AP Halloween ring
40 SGD (~32 USD, 24 EUR)
AP Jewelry Jelly ring
40 SGD (~32 USD, 24 EUR)
****************************************
***************************


offers on everything are fine but do note that i might be less willing to let go of more sentimental items for lower prices ;_; not looking to trade right now unless you have that particular jetj olive green jsk + bolero set in size 1 or MM antoinette fleur (first edition).


all items in this thread ship from japan, not singapore.


i am fine with sending it as a gift/marking down the price on parcels if you prefer.


i can do combined shipping + lower the price if you're buying more than one item.


thank you! ♥